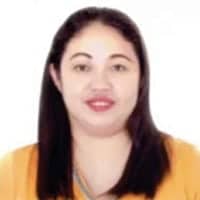 University of San Jose Recoletos, Bachelor of Science in Business Administration Major in Management (2006)
Spredsheet

Data Entry

Amazon Seller Central

Wallmart
1. The tracking says my package was delivered but it never arrived.
Oh I am sorry for the inconvenience Mr. Customer but rest assured I can check that for you so we will know what really happened. Upon checking here on my end, the address on file is different from the courier's address that was used. Here's what can I do now, I will update the correct address in the courier's end and will request for an expedite shipping so you'll receive the package within 24hrs.How this sounds to you Sir?
2.Why do I need to pay duty fees?
You need to pay duty fees because it's mandatory once you mailed any item to Canada which maybe subject to the Goods and Services Tax and/or duty. Unless specifically exempted, you must pay the 5% GST on items you import into Canada by mail. It is calculated based on the value of the goods in Canadian funds.
3. I am a size x in brand y, what size would you say I am in brand z?
I would say, I am a size Y in brand Z. Just for example, I am size double XL when it comes to Asian brands but I'm size XL with American brand.
4. I don't care that the discount code is expired it was offered to me and I should be able to use it.
I do apologized for your frustration but no worries you've reached the right person to assist you with on this. So let me go ahead and check here on my end, upon checking it's really expired and am sorry for that confusion but I have a good news for you which I can give you a one-time courtesy discount for you to use in all your purchases. So Ma'am was I able to resolved your concern to your satisfaction?
5. It is unacceptable that my package has not arrived yet, I want to send it back. (We can't send it back, you need to return it yourself).
I do understand for your inconvenience but I am here to help you out on this but as much as I wanted the package to be send back but I do really apologized because we don't have an access of sending it back but instead you need to return it by yourself within 7 days after you received it but no worries because you won't be paying any charges, just removed the return label and attached it on the package.
Customer Service Representative
Customer Service Representative (Call Center) ARB Calls and Facilities Bacolod City, Philippines October 28, 2020 – Present
Private English Tutor / Nanny Marwan's House (Dubai,UAE) Feb 15, 2018 – Feb 18, 2020
Customer Service Representative (Call Center) TPG Telecom Ortigas, Philippines March 28, 2016 – January 2018
Starting from USD 1500 per month